For Maintenance Questions Contact
Jordan Walters 270-893-2818
Kyle Logan 270-946-6355
R&K Pivots factory trained & experienced personnel service what we sell and keep your system running at peak efficiency and reliability.  With the farming background of R&K, we understand that when a problem arises it is imperative that it is corrected as soon as possible.  We do whatever is required to see that your system is running trouble free.  Since we do nothing but irrigation, there is never anything to distract us from your irrigation system.  Very few dealers can make that statement.
From many years of experience in the irrigation business we understand that some issues with an irrigation system arise from sitting still for months at a time.  That is where our preventative maintenance program comes into play.  We offer complete inspection and service of your center pivots before crops are planted to assure that when you need them they are ready to run.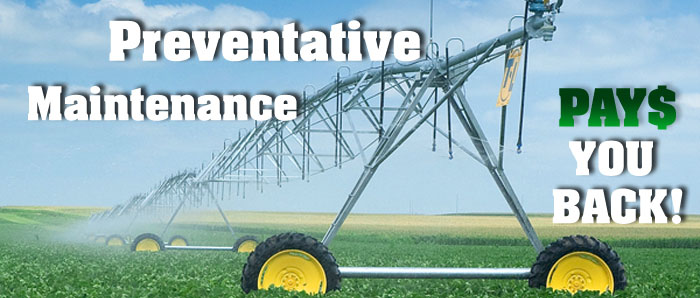 T-L center pivot owners have come to expect quality & dependability with every T-L Irrigation System they own. To assure many more years of reliable irrigation; schedule your annual preventative maintenance program today! Performing basic maintenance in the off season will pay you back when the summer heat arrives.
Pre-season checkups typically include:
Pivot point lubrication
Hydraulic oil levels and condition
Filter replacement
Check auto drains
Check tire pressures and condition
Lubricate gearboxes
Adjust alignment cables
Test control operations
Clean the sand trap
Contact us to thoroughly inspect your machine from the pivot point to the overhang. T-L Irrigation systems are "Easier On You—For A Lifetime." Schedule your appointment today!